Eigenschappen:
Camper internet bundel bestaande uit:

Teltonika RUT 240 4G LTE voertuig router 150 MBps
Poynting MiMo-3-V2-12 Camper antenne incl kabels

4-Pin Laadkabel PR2LK20M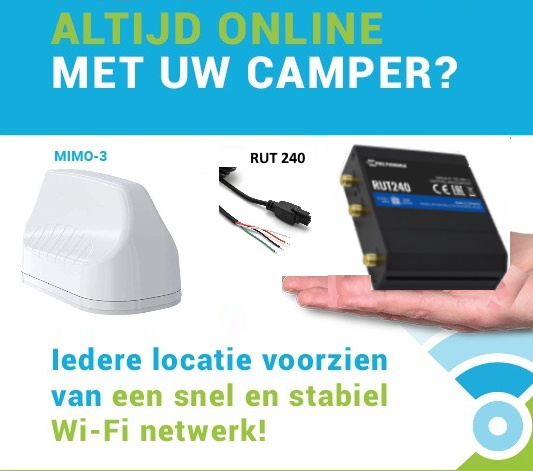 Beschrijving:
Speciaal voor eigenaren van caravans, Campers en boten hebben we complete internet bundels samengesteld. Deze bundel bestaat uit de teltonika RUT 240 en de 5G proof 2 in 1 poynting MiMo-3-V2-12 voertuigantenne.
Let op! er zijn twee bundelvarianten van de RUT240: een met europa en een met werelddekking
Teltonika RUT240
Met de multifunctionele industriële Teltonika RUT240 4G/ LTE router, kunt u iedere locatie voorzien van een snel en stabiel Wi-Fi netwerk dat middels een snelle 4G/ LTE dataverbinding en/of een vaste lijn verbonden is met het internet. Door de ingebouwde "automatische failover" schakelt de Teltonika RUT240 4G/ LTE hotspot automatisch tussen een vaste lijn verbinding naar het mobiele 4G/ LTE netwerk en omgekeerd. De Teltonika RUT240 is uitgevoerd met een externe SIMkaarthouder. Door zijn zeer uitgebreide professionele features is de RUT240 zeer geschikt voor inbouw in industriële omgevingen. De RUT 240 4G/ LTE Machine to Machine (M2M) router kan voorzien worden van een DIN-rail klem, zodat deze ingebouwd kan worden in een systeemkast.
Verbonden met het Mobiele 4G/ LTE netwerk biedt de Teltonika RUT240 dual wan router aan 32 gebruikers supersnel internet met snelheden tot 150 Mbps down en upload tot 50 Mbps. Op locaties waar nog geen 4G/ LTE netwerkdekking beschikbaar is, schakelt de Teltonika RUT240 automatisch terug naar het 3G of 2G netwerk. Lees hier meer over de Teltonika RUT240 V2.
Optimaal Bereik met de 5G Proof Poynting MiMo-3-V2-12:
Op locaties waar het mobiele signaal laag is versterkt de poynting MiMo-3-V2-12 tot wel 6 dBi. De mimo-3-V2 is 5G proof en wordt standaard geleverd met een kabelset van 2 meter lang. Lees hier meer over de 5G proof Poynting MiMo-3-V2-12 Camper-antenne.

4-Pin Laadkabel
Met de 4-pin laadkabel kan men de router direct aansluiten op het boordnetwerk van uw camper of voertuig. Lees hier meer over de 4-pin laadkabel.
In de doos:
Camperbundel bestaande uit:

Teltonika RUT240 06E000 4G LTE M2M router of
Teltonika RUT240 07E000 4G LTE M2M router
Poynting MiMo-3-V2-12
4-pin laadkabel PR2LK20M